Spirit of 52 präsentiert: #ALLIN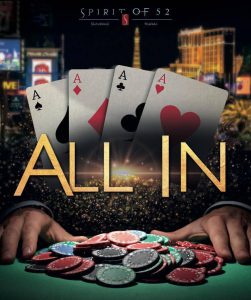 Letztes Jahr bot für uns eine Saison der Rekorde. Erfolge über Erfolge wurden erzielt. Grenzen durchbrochen und in Kerkrade gar ein neuer Vereinsrekord aufgestellt. Nun stellt sich die Frage, was kann danach noch kommen?
Um dieses Jahr ähnlich erfolgreichen zu machen, müssen wir alles investieren. Daher setzt Spirit 2019 alles auf eine Karte. Spirit of 52 geht 2019:
All In
Ist das Leben nicht wie ein Pokerspiel? Man weiß nie, was für ein Blatt man erhält oder was sich unter der nächsten Karte verbirgt. Wir erleiden Rückschläge und doch probieren wir es immer und immer wieder. Manchmal steigen wir sicherheitshalber aus. Und dann wiederum gibt es diesen einen Moment, in dem es sich lohnt, alles zu riskieren..!
Was ist mit dir? Steigst du aus oder gehst du mit uns All In..?
Captionheads "Spirit of 52" - 2019
Staffcoordinator: Philip Hecht
Brass Head: Jochen Ackermann
Percussion Head: Jaclin Grendel
Guard Head: Saskia Link
Visual Head: Robin Clausing
Design Team "Spirit of 52" - 2019
Drill: Robby Overvliet
Field Percussion: Malte Steiner
Front Percussion: Nick McConnaughey
Guard: Richard Gubby & Greg Howard (UK)
Brass: Derek Gipson (USA/UK)
Visual: Saskia Link & Robin Clausing (DE)