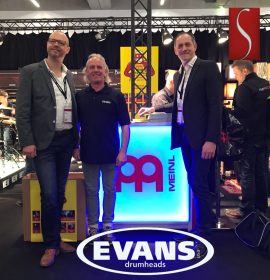 "Spirit of 52" ist EVANS Endorser!
Gestern waren Carsten Helms und Mark Gjaltema zu Gast bei der musikmesse in Frankfurt, um Gespräche mit unseren Endorsern Pearl Drums, Adams Percussion & Vic Firth zu führen.
Wir sind stolz verkünden zu dürfen, dass Spirit of 52 ab sofort auch Evans Drumheads Endorser ist!
Es war schon seit langer Zeit der Wunsch unserer Percussion-Staff auf EVANS Fellen zu spielen. Wir sind sehr glücklich über diese Zusammenarbeit und denken, dass wir zusammen mit Pearl, ADAMS & Vic Firth und jetzt auch EVANS die richtigen Marken zusammen haben, um unserer Percussion die besten Voraussetzungen für eine erfolgreiche Saison zu geben.